Welcome to Section 232 in year 2002!
JOIN US us at fabled RFK Stadium from April through the playoffs, where youšll thrill to the pulsating atmosphere and international fervor of Major League Soccer. Cheer on D.C. United as they bid to regain their major league crown.
1996 MLS Cup Champions
1996 US Open Cup Champions
1997 MLS Cup Champions
1998 CONCACAF Cup Champions
1998 InterAmerican Cup Champions
1999 Supporters Shield Winners
1999 MLS Cup Champions
News:

Tim's Going away party was a rousing success!

Tim was sent off on Saturday, May 26th with great fanfare. Thanks to everyone who made this party, and made this party a success. Here's Tim talking to none other than... Head Coach Ray Hudson! Thanks for taking the time to call, Coach!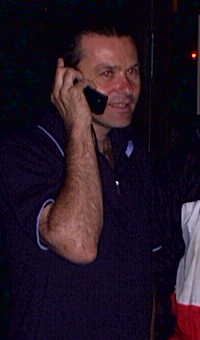 We have the new 2002 prices: We

have the new prices on the order form. Choir members bearing a completed order form with check will gain free admission to Saturday's USA versus South Korea Gold Cup match (normally $10) at The Rock. Kickoff is 6PM. As a further inducement, Dan Giffin will be leading a choreographed DC United striptease during halftime. Ladies beware!

Der Bummer!.

Wednesday May 23, 2001, Bundesliga power Bayer Leverkusen beat United, 4-3, for our first ever loss to a European club.

"Come into my parlour," said the spider to the fly. Newcastle United got a taste of DC hospitality last summer! Despite the fact that they made us dress like tourists, in white shorts and black knee-socks (see below), DC came through with a crowd-pleasing 3-1 victory on goals by Jaime Moreno, Carlos Llamosa, and "Sneaky" Pete Marino.

We offer individual match tickets to regular season games. Individual ticket prices will be announced shortly. To order tickets, use our convenient order form; for more information, send e-mail to choir232@aol.com.
The Choir occupies premium midfield seats in section 232 on the sunny side of RFK Stadium. You'll catch all the passion and excitement of Washingtonšs premier value in sports from the best seats in the house. The Choir has reserved the entire section 232 so we can offer terrific savings on specially priced 9- and 18-game plans.
There's more to enjoy besides the game. Wešll get together for pre-game happy hours at one of our four participating bars and restaurants. There are tailgates and pick-up soccer games, post-game parties with D.C. United players, and lots of fun prizes and giveaways. Plus we frequently gather at the Capitol Lounge, the Rock, or the Lucky Bar to take in all manner of soccer from around the world - see the Soccer Nation web page for details!